introducing


nextgen

angus x
NextGen Cattle Co and ABS have joined forces to connect cattle producers directly to the newest Angus-influenced genetics and technology on the market.
the nextgen cattle + abs partnership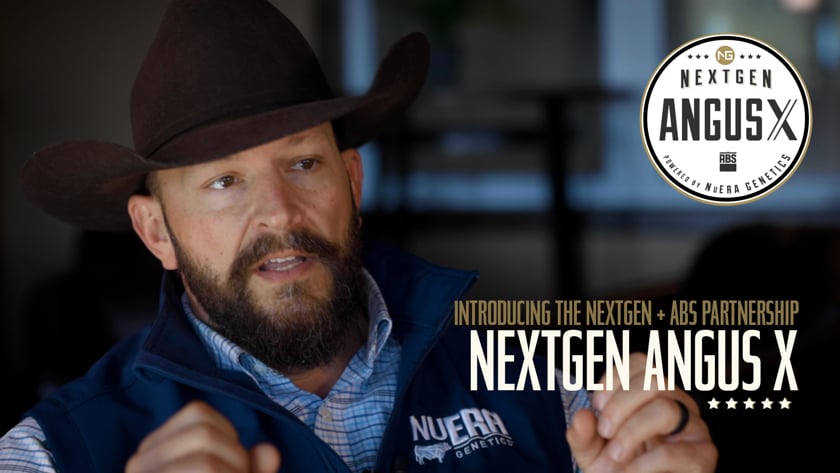 We will sell 300 NG Angus bulls in 2023 with 100 being in our Fall Flint Hills Classic.
Expect 350 bulls to be sold in 2024
Be the first to know instant updates on the NextGen Angus X program by filling out the form!
Helping cattle producers reach unmatched growth, extreme feed efficiency and tremendous carcass quality.
At the end of the day, we believe together we can do something others haven't done and actually quantify and show the cattlemen how they will benefit and participate in these efforts.
ABS' genetic technology and expertise is so far advanced as to what we could do as a small company. With ABS, we believe they are decades ahead of their competition with the data and research to back it.
Founder | Nextgen Cattle Company
Everyone involved in this partnership has a deep, unique understanding of the beef industry.
Yet, none of us are fixed, or tethered to more traditional models of beef production. This focus is on enhanced profitability through the strategic use of genetics that have been designed to grow, grow efficiently, and grade.
NuEra Business Development Manager | ABS Global
ABS Global created NuEra Genetics in 2014 and stayed true to our pioneering and innovative mentality.
NuEra Genetics symbolizes the next chapter in the history of ABS beef genetics: in short, a distinctive new era of ABS beef genetic improvement. A chapter that is focused on providing robust improvement and delivering value to customers throughout the beef supply chain. ABS NuEra Genetics is focused on the needs of producers and the entire beef supply chain with a climate-smart, exclusive beef genetic program providing unique and top-performing terminal beef genetics.
This program encompasses all proprietary ABS beef breeding programs, evaluations, and indexes. As our exclusive terminal genetic line, NuEra Genetics was developed to improve profitability through focused terminal genetic selection. NuEra sires are an SimAngus hybrid composite selected specifically for growth, feed efficiency, and carcass merit—all traits important to the beef supply chain.